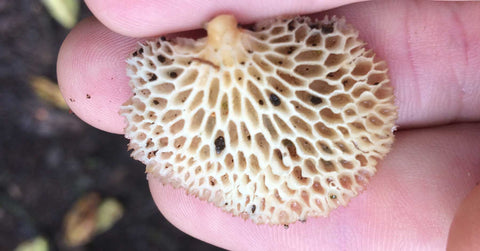 Recently I was fortunate to be able to take a real quick trip to Quito, Ecuador.
My good friend and photography renaissance man, Isaiah Mangum stumbled upon some cheap plane tickets. He was looking to rack up some miles–so he asked a couple of us to go with him. It ended up being Isaiah / internet magnate and professional with all things lens-oriented, Jon Perry / a self-taught evolutionary biologist and educator, and me / illustrator & printmaker with an amateur obsession with mushrooms.
In a complete reversal of the typical three-guys-in-a-foreign-country stereotype, we spent the majority of our three day trip in botanical gardens, biodiversity museums and the cloud forest in the hills around Mindo. We were in bed before 11 every night, with the exception of a mind-blowing night walk through the forest the second evening–not like my few foreign travels with friends in my 20's, where we hopped from cafe to bar to plaza/park and slept just enough to keep forward momentum.
The approximately 24 hours we spent outside Mindo at a little place called Septimo Paraiso–an unbelievable fantasy-like eco lodge catering mostly to bird folks–felt like weeks of wild eyed absorption of local flora, fauna & fungi. I have said this to everyone asking about my trip, but it is true–it took us 90 minutes to walk the first 300 yards, just looking at insects and mushrooms with the professional guidance & expertise of our guide (and Jon's friend from science conferences past) Nancy Miorelli. Nancy is a pro, and contrary to what you seem to hear from most eco guides & locals in jungly areas, she encouraged me to crawl around in the leaf litter looking for bugs & mushrooms–with the caveat that the hospital was close enough that I probably wouldn't die if a Fer-de-lance decided to give me a nip. SHAMELESS PLUG: Nancy is on Instagram & Facebook as @sci.bugs and she gives custom tours to those interested in the ecological or cultural badassery of Ecuador–so buy a plane ticket, talk to her and then go there for pure wonder.
All of this is to say that 3 days in Ecuador provided me with enough photo & video content of insects, plants and of course mushrooms to fill a year of artistic endeavors. In light of that, I will be focusing the next limited edition release on a little Ecuadorian Cloud Forest fantasy I like to call, A Spectacled Bear and Some Mushrooms. It is not just a clever name folks, the coming tee & accompanying limited silkscreen print will feature an adorable but to-be-respected resident of the South American forest surrounded by a swirling cadre of equatorial fungus. I'm in the concepting / sketching phase at this moment–well, technically just before and after writing this blog–and I'm thinking some sticks with shelf fungus (polyporaceae), including a wild favolus (from favus Latin for honeycomb) that we saw, a giant white polypore floating in space, some netted stinkhorn that I wanted to see but tends to be in the rainforest proper, and a few cordyceps maybe attached to the bear.  
I'll post photos on Instagram as I dig in, so stay tuned for that–I'll probably drop some into this post as well ex post facto. Thanks for reading, and I'll be coming back with another installation on why I am crazily obsessed with mushrooms soon.